Syrian Observatory for Human Rights: (a selection of news) The Syrian regular forces have shelled the villages of Jusyya and Al-Nezariya, in Al-Qusaire in Homs, with mortars. They started raids in an attempt to search for defectors. Also, there was gunfire by heavy machine guns in the villages of Al-Salehiyya and Al-Nahreiyya.
The 'peace keeping' forces have used gas-tear bombs, today, to disperse more than 1000 students held a protest at the Agriculture Engineering at Aleppo University, in Aleppo.
Joint military and security forces have arrested dozens of people during the raids and arrests today's morning in the village of the Western Maliha, near Al-Herak in Daraa district. There was heavy gunfire in the village where the defected groups arrested a sergeant in the Syrian Mukhabarat.
Also, the dead body of a man was found on the international Damascus-Daraa motorway.
Syrian Uprising 2011 Information Centre: SUMMARY (04/03/2012): At least 50 martyrs today – including 7 kids and 2 women killed in the shelling of Rastan, 6 youths executed in Baba Amru and 13 workers slaughtered by the regime's militiamen in Hama countryside. The Red Cross seems to have given up ever being allowed into Baba Amru and is distributing aid among displaced people in the countryside outside the city. Hundreds more refugees have been fleeing the regime's attack on Qusayr into Lebanon. The situation in Idlib and Hama is also very bad. See the map for more. Syria – Sunday 04/03/2012 – Google Maps
HOMS (04/03/2012): A very depressing video showing Old Clock Square in the city centre of Homs – with tanks dug in and destruction all around. It seems to sum up how, in large parts of the country (Daraa, Damascus Countryside, Homs, Hama, Idlib, Deir Ezzor, some parts of Aleppo and the coastal towns) the Syrian army has become an occupation force – destroying, killing, raping and looting.  At least 24 martyrs have fallen today – including 6 young men executed in Baba Amru and there are also reports of a new massacre in the Hama countryside carried out by the regime's militiamen.

 Homs City Centre 04/03/2012
UPDATE (04/03/2012): Following Friday's massacre in Rastan (besieged city north of Homs) when the protest was shelled, today there was a massacre of children – at least 5 kids killed in the shelling, plus a 30-year old woman. Elsewhere, the regime's army continues to rampage through Hama, Idlib and Daraa provinces. Homs is still under attack, Baba Amru is still being "cleaned." Tanks are moving through Deir Ezzor and a student was stabbed to death in al-Bab, Aleppo province. At least 15 martyrs have fallen.

 Injured kid, Rastan 04/03/2012
British Syrians & Friends in Solidarity with the Syrian Revolution: al-Jazeera promotion for Syria with subtitles (click on cc)
 Syria, promo aljazeera, subtitles – Promo Syria Aljazeera, I'm a human not an animal – These are videos made by Aljazeera, to show the people what's happening in Syria. Very touching and emotional English subtitles.
…
NOW! Lebanon
[local time]
22:06 
Syrian soldiers and defectors clashed in Daraa, Al-Jazeera reported.
21:41 
Syrian soldiers and defectors are clashing in Damascus' Jawbar, Al-Jazeera reported.
20:47 
Syria's Sunday death toll has risen to 50 people, Al-Arabiya quoted activists as saying.
20:37 
Syrian forces killed 13 people near Hama on Sunday, Al-Jazeera quoted activists as saying.
18:07 
Israel has offered 
to send humanitarian aid
 to Syrian civilians affected by the regime's crackdown on protests through the International Committee of the Red Cross, the Israeli Foreign Ministry said on Sunday.
16:26 
A group of Syrians gathered Sunday in front of the Russian embassy in Damascus to thank Moscow's support for the regime and 
urged Russians to vote
 for Vladimir Putin in Russia's polls.
16:08 
Syria's Sunday death toll has risen to 25 people, Al-Arabiya quoted activists as saying.
15:17 
The UN said on Sunday said that between one and two thousand Syrian refugees are in the process of 
crossing the border
 into Lebanon, Reuters reported.
15:17 
Four children were among seven civilians killed in 
shelling
 by regime forces of the mainly rebel-held city of Rastan in central Syria on Sunday, a monitoring group said.
14:46 
An explosion was heard in Bab Mousala in Damascus on Sunday, Al-Jazeera television quoted activists as saying.
14:25 
Syrian forces have killed 15 people on Sunday, the General Commission of the Syrian Revolution said.
14:13 
Dozen of Syrian families have fled to the Bekaa Valley in Lebanon from villages in the Syrian city of Homs, Al-Jazeera television reported on Sunday.
14:06
 The international Red Cross said it 
delivered relief supplies
 on Sunday to refugees from the battered Baba Amr district of Homs city in a nearby village of central Syria.
10:30 
Syrian forces 
intensely began shelling
 the mainly rebel-held city of Rastan from daybreak on Sunday, days after routing army deserters from nearby Homs, a monitoring group said.
8:00
 Iran is stepping up its 
military and intelligence support
 for Syrian government troops in their crackdown against opposition strongholds, the Washington Post reported late Saturday.
…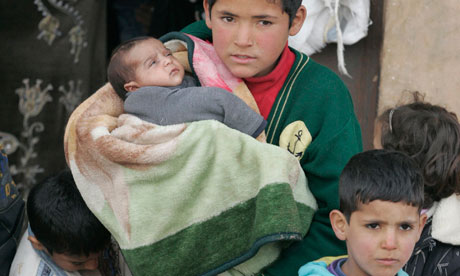 Syrians flee Homs for Lebanon
Up to 2,000 refugees reach border, but fate of thousands unknown as Red Cross still denied access to Baba Amr
The Red Cross delivered emergency aid to areas around the battered Baba Amro district of the Syrian city of Homs on Sunday, but was blocked for a third day from entering the former rebel bastion amid reports of bloody reprisals by state forces.

Activists reported shelling and other violence across Syria, sending one of the biggest surges of refugees across the border into Lebanon in a single day since a revolt against President Bashar al-Assad began a year ago.

Concerns mounted for civilians left stranded in Baba Amro in freezing weather with little food, fuel or medicine. Rebels abandoned their positions there on Thursday after facing almost a month of near-constant shelling by Syrian forces intent on crushing the uprising.

Activists said the government was trying to prevent the Red Cross from witnessing "massacres" by Syrian soldiers hunting down and killing remaining rebels.

"In all the years that I have known the ICRC in Damascus, the Syrian government has never let them see torture victims or the underbelly of the government," said Joshua Landis, a Syria expert at Oklahoma University. "I don't know why they would change now."

U.N. Secretary-General Ban Ki-moon said on Friday he had received "grisly reports" that troops were executing and torturing people in Homs after insurgents abandoned their positions.

"It's over for tonight. We will try again tomorrow," said Saleh Dabbakeh, the Damascus-based spokesman for the International Committee of the Red Cross (ICRC), referring to efforts to get into Baba Amro. He declined to say why Syrian forces had blocked their entry.

The ICRC said workers had instead delivered supplies to areas nearby where many people had taken refuge.

The United Nations' refugee agency said up to 2,000 Syrians had fled the fighting for neighboring Lebanon.

"We had similar numbers in April 2011, but the flow of new arrivals had stabilized since then," United Nations refugee agency spokeswoman Dana Sleiman said.

Refugees told Reuters of army shelling and gunfire in border towns. One woman said she and her family had fled the village of Jusiyah, near Qusair, about 12 km (7 miles) from the border.

"In the morning the shelling started, so we had to leave towards Lebanon. There were some wounded, but I don't know what happened to them," said Um Ali, 64.

She sat under a tree with her husband, five sons and a pregnant daughter-in-law. They had not brought any belongings.

"We don't know what to do," she said.

A doctor on the Lebanese border said around 1,500 Syrians had crossed into Lebanon.

A Lebanese security source said the Lebanese army had arrested at least 35 armed Syrian rebels who were trying to enter his country from Qusair.

The outside world has proved powerless to halt the killing in Syria, where repression of initially peaceful pro-democracy protests sparked an insurrection by army deserters and others.

The government says it is fighting foreign-backed "terrorists" it blames for killing hundreds of soldiers and police across the country.

SCHOOL RAID

Syrian state television showed images of the corpses of anti-Assad fighters killed in clashes in the suburbs of the city of Hama, as well as an array of captured weapons, including arms it said were U.S. and Israeli-made.

One anti-government activist said the Syrian army had raided a girls school in Daraya, near Damascus, beating students for holding an anti-Assad protest and threatening to open fire on similar demonstrations in future.

In a house in the Douma suburb of Damascus, the activist told Reuters by Skype that the Syrian army had killed two defectors and seven other people who had been harboring them.

Other activists reported government raids in Hama in which one young man was shot dead, and heavy shelling in the town of Rastan, north of Homs, where rebels have been hiding.

"Residents told me that shelling started early this morning shortly after helicopters and spotter planes were seen above the town," said Rami Abdelrahman, head of the Britain-based Syrian Observatory for Human Rights.

Clashes between Syrian troops and Free Syrian Army rebels, many of them army defectors, were reported in Jebel al-Zawiya in Syria's north, and activists said government forces had used tear gas to end an anti-Assad protest of around 1,000 people in the northern city of Aleppo.

Abdelrahamn also reported an attack on a Syrian army weapons depot by rebels near Homs on Saturday, killing and wounding up to 50 Syrian troops. Activists' reports are difficult to verify independently due to Syrian reporting restrictions.

The United Nations says Syrian security forces have killed more than 7,500 civilians since the revolt against the Assad family's four-decade rule began in March last year.

The Syrian government said in December that "armed terrorists" had killed more than 2,000 soldiers and police during the unrest.

BEIRUT PROTESTS

Lebanon deployed more troops to its northern border in response to the violence in Syrian towns nearby, a Reuters witness said, part of a conflict that risks dragging in regional powers with rival sectarian interests.

In the Lebanese capital, Beirut, hundreds of soldiers and scores of military trucks and jeeps blocked off the city centre during protests for and against Assad, whose ruling clan are Alawites, an offshoot of Shi'ite Islam.

Lebanon is home to Shi'ites, Sunnis and Christians, and is the base of the powerful Shi'ite militant group Hezbollah.

Sunni Arab states Qatar and Saudi Arabia have been among the loudest calling for Assad's downfall, and have even suggested arming his opponents.

"We sacrifice our blood and souls for you Bashar," chanted a pro-Assad crowd of about 500 people. Some stepped on photos of Saudi Arabia's King Abdullah and threw shoes at a poster of him.

A similar sized anti-Assad crowd sang: "We sacrifice our blood and souls for you, Homs."

China, which along with Russia has twice vetoed U.N. Security Council resolutions condemning Damascus, urged government and rebels to end the violence and start talks, but reiterated its opposition to foreign military intervention.

"We oppose anyone interfering in Syria's internal affairs under the pretext of 'humanitarian' issues," said a foreign ministry statement carried by Xinhua news agency.

Russian Foreign Minister Sergei Lavrov will join Arab counterparts at a meeting in Cairo this month to discuss the Syrian crisis, the Arab League said on Sunday, a move that could indicate Moscow is shifting its stance on the issue.

(Additonal reporting by Afif Diab on Lebanese border, Stephanie Nebehay in Geneva and Ayman Samir in Cairo; Writing by Mohammed Abbas; Editing by Andrew Heavens)
…
BBC: Syria crisis: Red Cross pushes for Baba Amr access
The Red Cross has been unable to access the wrecked area of Baba Amr, in the Syrian city of Homs, for a third day.

The agency said it had begun to hand out food and blankets to people who had fled Baba Amr to nearby areas.

Syrian officials told the Red Cross that Baba Amr had to be cleared of booby traps, but activists said troops were carrying out reprisal attacks.

Meanwhile, the bodies of two foreign journalists killed in Homs are due to arrive in Paris later.

The bodies of Remi Ochlik and Marie Colvin had been put on an Air France flight from Damascus on Saturday evening.

Baba Amr 'mystery'

Rebels from the Free Syrian Army withdrew from Baba Amr late last week after weeks of shelling from government forces.

A seven-lorry Red Cross convoy has been waiting to enter Baba Amr for three days.

The government gave permission for the agency to access the area, but has since refused to let the convoy through.

The BBC's Jim Muir, in neighbouring Lebanon, says the Red Cross and Red Crescent have now begun to help those who fled Baba Amr, giving them blankets to help deal with the bitter cold.

The ICRC said a 15-strong team had been dispatched to the Abil area, south of the city.

ICRC spokesman Hicham Hassan told Reuters: "The plan is to continue to the neighbourhoods of Inshaat and Tawzii in order to assist [local] populations and families displaced from Baba Amr."

The Red Cross said it did not know how serious the situation was in Baba Amr.

"We really don't know how many people are still in there. It's all a bit of a mystery to us," said the UK spokesman of the ICRC, Sean Maguire.

'Systematic slaughter'

Witnesses and activists say conditions in the district are terrible, with no power and little food, water and medical supplies.

Syrian state TV has been broadcasting pictures of deserted streets laden with debris.

The Syrian authorities say there are mines and potential booby traps in Baba Amr that need to be cleared before the Red Cross can enter.

But there have been unconfirmed reports of revenge killings and summary executions by Syrian forces in Baba Amr and opposition activists believe the delay is to cover this up.

The reports speak of mass arrests of males over the age of 11, with the local co-operative building being turned into a detention centre.

One report alleged that a lorry-load of bodies from Baba Amr was seen on a nearby road.

There were also reports of explosions, shootings and shelling in other districts of Homs. […]
…
Guardian: How I escaped from Homs as Syrian forces closed in Javier Espinosa
I joined a motley procession of injured fighters and journalists fleeing the city – on the day 64 people died trying the same thing
The motley procession seemed like something out of the 17th-century Spain described by the writer Francisco de Quevedo. One injured man was in his underwear, with his legs, head and arms bandaged up, using his working hand to grasp his drip. He could barely walk. Then came a limping man, wounded in his foot, who hopped or was carried on a friend's back. Another young man, his leg shattered by shrapnel, was transported on a blanket held by others.

Ahmed, his arm and leg lacerated by shrapnel from a rocket, leaned on Mohamed, who struggled onwards with a sniper's bullet in his back. Journalists Paul Conroy and Edith Bouvier, both wounded, were part of the same strange troop, along with two other correspondents, including me.

Even the vehicles we travelled in seemed more ready for the scrapyard than this insane venture. The lorries were peppered with bullet holes and shrapnel. One jolted along on a flat tyre.

Fifty or more of us – many disabled by their wounds – were trying to break out of the besieged neighbourhood of Baba Amr, in Homs, fleeing the final attack unleashed by the Syrian regime. It was to be a risky night-time dash through Syrian army lines, which would prove just how desperate these people, abandoned to their luck, had become.

The journey started at 9pm. Lorries full of those trying to flee navigated the deserted, pitch-dark streets at high speed. We drove without headlights, trying not to alert snipers.

The people of Baba Amr have suffered so monstrously that for some of those who found a seat it seemed almost funny. They giggled at the sight of a journalist protecting their head with a laptop. "Silence! Please!" a militiaman ordered. One man was only too aware of the danger; he prayed continuously.

Only part of the journey could be travelled by vehicle. The rest was to be done on foot. Suddenly the sky lit up. Government troops must have heard the noise and begun to fire off flares.

"Get down! Get down! Snipers!"

The group began to splinter. Most went to hide in ruined buildings. The seriously injured could do no more than throw themselves to the ground. On this occasion, the flares lit up an area away from where we were. But it was a taste of the chaos to come.

"Mummy! Mummy!" Terrified children called out as they walked. The Free Syrian Army (FSA) fighters tried to quieten them. But it was too late. The firing started as suddenly as the flares. Bullets ricocheted around us. A burst of gunfire forced us to hide in the scrub. Then a hail of bullets broke up the group.

We ran across fields. Bullets whistled past. I followed Mohamed and Ahmed, who seemed to have forgotten the shrapnel in his leg. He hopped and trotted at an incredible speed. Later he would joke about it: "How on earth could I run like that, when I can't even walk?"

The three of us hid in a copse of trees, cowering there for more than an hour as shots continued to ring out nearby.

Ahmed is a 23-year-old Palestinian, born in the refugee camp in Hama. He joined the uprising at the start, fighting with the FSA. He boasted of having destroyed 17 armoured vehicles before he was wounded. Now he hoped to get to Lebanon and find a hospital to treat him. Mohamed was his comrade from the same katiba, or unit. He also wanted to get to Lebanon.

"What shall we do? Which direction do we go?" The three of us were lost. After the firefight, the countryside fell back into silence. The absence of noise was almost as startling as the gunfire.

Sometimes life is ruled by logic. I could just recall that this was the route I had used to get into Baba Amr, so they asked me to lead them. Little by little the muddy paths began to seem familiar. We walked in single file, slowed down by fear and the others' injuries. Mohamed had to prop himself on our shoulders.

Finally we made it to a cluster of houses. The rebellion is widespread in Homs. All Ahmed had to do was knock on a door and immediately a group of youths set about finding us somewhere to hide. Minutes later we were escaping again, four of us on a single motorbike.

The night belongs to the rebels. The motorbike was stopped by an FSA patrol that had blocked the road. They took charge of getting the three of us to a village far from Bashar al-Assad's troops.

Baba Amr's destiny has been decided. The rebellion there appears to have been quashed, but it will continue in many other places. South of Homs, in Qusair, the rebels boast that they control half of the town. People there walk in daylight whenever the bombardments die down. You can even buy falafel.

"They have 70 tanks and 5,000 soldiers surrounding the town, but they don't dare go in," said a member of the FSA's Farouk Brigade – which controls the farming region around Homs and had been in charge of Baba Amr.

That did not mean, however, that one entered the town at less than a crazy speed. It was a wise strategy. A car hit earlier was still burning on the road.

There is no method to war. Nothing you have learned helps you predict who will live and who will join the statistics. On the day I escaped Homs, the rebels said some 64 other people had died trying the same thing. They claim they were women and children.

For Assem, a 36-year-old labourer who has joined the rebels, the defeat of Baba Amr – still not certain when we spoke – would not end the uprising.

"Bashar has not got the message. I, for example, loved him when he took over. I thought he would be different to his father," he said. He pointed to a part of his little finger. "If he had just given us this little bit of freedom, we would have remained quiet. But whenever he slaughters someone from our families he simply increases our desire to kill him."