Sunday 21 October 2012
Syrian Observatory for Human Rights – new website in English: http://syriahr.com/en and in Arabic: http://syriahr.com.
On Facebook:  Syrian Observatory for Human Rights: Second preliminary death toll for Sunday 21/10/12. More than 118 Syrians were killed so far today. The dead include: 53 civilians (10 of them children), 19 rebel fighters, 4 defected soldiers and 42 regular soldiers, 53 Civilians:
-In Dasmascus 17 civilians were killed. A woman and a man were killed by snipers in the Qadam and Qaboun neighbourhood. The bodies of 2 men, killed by direct fire, were
 found after midnight; it is thought that they are a result of the clashes that took place in the Tishreen neighbourhood. *13 Syrians, most of them civilians, were killed as a result of a car-bomb that went off by the police station in the Bab Touma neighbourhood of Damascus.*- In Reef DImashq province 15 were killed. 5 children and a woman were pulled out from under the rubble after violent bombardment on the Saqba town 2 days earlier. 4 civilians, including a child, from the Harasta city were killed by bombardment. A child was shot by sniper in the Zamalka town of Reef Dimashq. 2 civilians were killed by the bombardment on Zamalka and Madaya. A child was found dead under the rubble in Hamouriya town after bombardment on the town days earlier.- In Aleppo province 8 civilians killed. 2 men were shot by snipers in the Bustan al-Qasr and Tariq al-Bab neighbourhoods. 5 men were killed by the bombardment on the Masaken Hanano neighbourhood. 1 child died of wounds from the earlier bombardment on the Qaterji neighbourhood.
- In Idlib province 7 civilians were killed. 3 men by the bombardment on Sfohen village. 3 men killed by the bombardment ton Ma'arat al-Nu'man. A 12 year old child died of wounds caused by a cluster bomb bomblet in the town of Saraqeb.
-In Homs province a man killed by the bombardment on the city of al-Rastan.
-In Dera'a province 3 civilians killed. 1 was killed by regime fire when they stormed the town of al-Mata'iya. 1 man was killed by a sniper in the Dera'a al-Balad neighbourhood. An unidentified body was found in the Tariq al-Sad neighbourhood of Dera'a.
-In Deir Izzour province 2 men were killed by the regime bombardment on the town of Shheil.
—–
19 Rebel fighters:
Reef Dimashq: 7 rebel fighters were killed. 4 from the Harasta city were killed during clashes with regime forces. 2 rebel fighters were killed during clashes with regime forces in the perimeter of the towns of al-Zabadani and Madaya. 1 died of wounds in Sayyeda Zeinab
Aleppo province: 5 rebel fighters were killed during clashes with regime forces in several neighbourhoods of the Aleppo city.
Idlib province: 5 rebel fighters were killed by clashes outside Ma'arat al-Nu'man and outside the town of Harem.
Damascus: 1 rebel fighter died during clashes in the Qadam neighbourhood of Damascus.
Homs province: 1 rebel from the Khaldiya neighbourhood of Homs was killed by clashes in Reef Dimashq.
—–
4 defected soldiers were killed during clashes in Reef Dimashq, Deir Izzour and Dera'a.
—
No less than 42 regular troops were killed by IED attacks and clashes in several provinces: 10 killed in Idlib, 14 in Reef Dimashq, 1 in Dera'a, 3 in Latakia, 12 in Aleppo and 2 in Deir Izzour.
 …
NOW! Lebanon
[local time] 
 20:53 Sunday's death toll in Syria increased to 103, Al-Arabiya quoted activists as saying.

 18:24 Syrian security forces killed 82 people on Sunday, Al-Arabiya quoted activists as saying.

 16:00 A YouTube video uploaded on Saturday purportedly shows Syrian army forces in a field hospital.  One of the soldiers steps on an injured man's throat and asks him where his weapons are.

 13:54 A leaked YouTube video purportedly filmed on Saturday shows alleged members of the Syrian regime army "playing" and enjoying their time in a kindergarten.

 13:23 Thirty-one people have been killed in Syria Sunday, activists said

 12:36 Syrian regime forces shelled the town of Kfarmouna leaving injuries, Al-Jazeera television quoted activists as saying

 12:16 Syrian regime forces raided Al-Tiba town in Daraa, activists said

 11:41 Syrian rebels took control of Al-Ramousa highway in Aleppo, activists said

 11:18 A bomb exploded outside a police station in a Christian quarter of Damascus' Old City on Sunday, killing seven people and wounding many others, a security official said.

 9:39 Syrian rebels took control of three police headquarters in the town of Abu Kamal, activists said
…
REUTERS: Assad tells Syria envoy arms flows to rebels must stop
DAMASCUS – A car bomb killed 13 people in central Damascus on Sunday as President Bashar al-Assad told an international mediator seeking a truce in Syria's civil war that the key to any political solution was to stop arming rebels. | Video
The bomb exploded outside a police station in the mainly Christian central Bab Touma district of the capital while Assad held talks with United Nations-Arab League envoy Lakhdar Brahimi, who is pushing for a temporary ceasefire to mark the Islamic festival of Eid al-Adha.

State news agency SANA said the president said Syria supported "any sincere effort to find a political solution to the crisis, based on respect for Syrian sovereignty and rejecting foreign intervention."

Any proposal "must be centered around the principle of halting the terrorism and … commitment by the countries involved in supporting, arming and harboring the terrorists in Syria to stop these actions", SANA quoted Assad as saying.

Syrian authorities blame neighboring Turkey in particular for the bloodshed because it has sheltered mainly Sunni Muslim rebels fighting to overthrow Assad, from Syria's Alawite minority which is an offshoot of Shi'ite Islam. Gulf Sunni powers Saudi Arabia and Qatar also support arming the rebels.

Syria's conflict, which started with peaceful protests for reform, has escalated into a civil war marked by heavy use of artillery and air power by Assad's forces and regular bombings against symbols of his authority in Syria's main cities.

The Interior Ministry said the Bab Touma bomb, on the edge of the old city of Damascus, killed 13 people. Security forces cut off access to the area. Television pictures showed shattered glass on the road and several burnt out cars.

HOPING FOR CALM

Speaking after his meeting with Assad, Brahimi gave few details of the talks but reiterated his call for a pause in the violence, which activists say has killed more than 30,000 people since the uprising against Assad erupted in March last year.

"Everyone can start this (ceasefire) when they want, today or tomorrow for example, for the period of the Eid and beyond," he told reporters at a Damascus hotel. Eid al-Adha begins at dusk on Thursday, lasting for three or four days.

Brahimi said he had contacted opposition figures inside and outside Syria, including rebel fighters, as well as officials in neighboring countries, some of which support the insurgency.

"They answered that they would respond positively to a (ceasefire) initiative from the government," he said. "We hope this Eid in Syria will be calm, even if it is not a happy Eid."

He added: "If we do find that this calm continued through the Eid, we will try to build on it. If that does not happen, we will try nevertheless and work to open the path to hope for the Syrian people."

Turkey has called for all sides to observe Brahimi's truce. Iran, one of Assad's major backers, has also supported the call but said the main problem in Syria was foreign interference, such as arming the rebels.

The United States, which has been a vocal critic of Assad but has little apparent influence on the ground, threw its weight behind the ceasefire call on Friday.

A previous ceasefire in April collapsed after just a few days, with each side blaming the other. Mediator Kofi Annan resigned his post in frustration a few months later.

The violence has spread across Syria's frontiers. Assad's forces exchanged cross-border artillery fire with Turkey several times this month and on Friday a huge car bomb in Beirut killed a top intelligence official whose investigations had implicated Syria in trying to stoke violence on Lebanese soil.

Syria's Information Minister Omran Zoabi told reporters on Friday: "We condemn this terrorist explosion and all these explosions wherever they happen. Nothing justifies them."

(Writing by Dominic Evans; Editing by Janet Lawrence)
…
Guardian: Western policy on Syria is failing on a monumental scale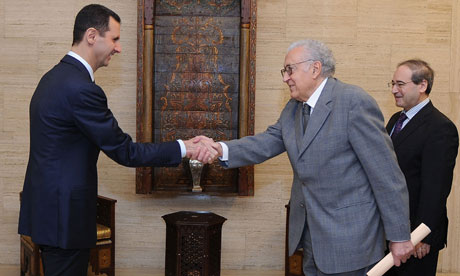 Peter Hain
(
http://peterhain.org
)
:
 The only way forward for Syria is to broker a political settlement, in consultation with Russia and Iran.
If Russia and Iran have been culpable, there has been a catastrophic failure of diplomacy by the west and its allies. UN secretary general Ban Ki-moon's call for a ceasefire and an arms embargo is a welcome challenge to the west's floundering policy. Britain, France and the US, as well as their allies, Turkey, Qatar and Saudi Arabia, need to recognise that neither side is going to win the civil war engulfing Syria. Nor will the Turkey's call for western military intervention to halt the humanitarian disaster resolve the crisis. A political solution has to be the priority.

The Syrian leader, Bashar al-Assad, is reported to be willing to consider the proposal by the UN-Arab League envoy, Lakhdar Brahimi, for a ceasefire for the four-day Eid al-Adha holiday on 26 October. The western powers and the Arab arms suppliers should urge their friends in the opposition to declare they will reciprocate if Assad makes good on his tentative promise.

Western demands for regime change were never going to work because this isn't simply a conflict between a savage regime and the Syrian people. Assad and the ruling Shia-aligned Alawite minority form a tenth of the population and fear being oppressed by the Sunni majority. Christians and other minorities are similarly nervous. Together, those behind Assad constitute nearly a third of Syrians.

The war has also become a wider proxy for Sunni versus Shia, and Saudi Arabia versus Iran. There is also bitter suspicion at the west's real intentions from Russia and China and their allies. They insist that they never authorised UN backing for military force to depose Muammar Gaddafi last year, and refuse to be "tricked" again. The Iraq invasion also poisons trust of the west. Libya today – its people at the mercy of warring militias and jihadist opportunists, the US ambassador assassinated – is hardly a good advertisement for repeating that regime-change recipe in more complex Syria.

David Cameron's recent high-minded rhetoric at the UN general assembly ignored the presence of al-Qaida fighters among the west's favoured rebels.Assad and the minorities and other popular forces that support him fear becoming victims of genocide, so will fight on. If the Syrian regime was somehow toppled without a settlement being in place, the country would descend into even greater chaos.

Russia is determined not to allow that anarchy, mainly because Syria provides its only Mediterranean port in the region. Iran also has key interests, malevolent or otherwise. Syrian refugees have already flooded into Turkey and Lebanon, the latter destabilised, with its police chief assassinated, and now plunged into a political crisis.

The only way forward is to broker a political settlement, with Russia using its leverage to ensure that Assad negotiates seriously. Without pandering to Vladimir Putin's ruthless rigidity, engagement with Russia is critical – as is consultation with Iran. Otherwise a settlement will not happen.The guidelines for a political transition approved by the five permanent members of the UN security council at the Geneva conference in June still provides the best road map – but only if the US, the UK, Saudi Arabia and their allies drop their current stance and help to implement it.

However unpalatable, Assad may have to be granted immunity in order to get him to sign up and stop his barbarity. All state employees, including those in the armed forces, must be allowed to keep their posts, to avoid a repeat of the chaos caused by America's de-Ba'athification in Iraq. A Yemen-type process may even figure. There, a hated president did not resign but did not stand for re-election. A coalition government of national unity could then prepare for Syrian elections, due in 2014.

The current British-American policy is failing on a monumental scale. Unless there is a radical change, all the hand-wringing and condemnation is either empty or hypocritical – or both.
Funeral of security official killed in Beirut car bomb turns violent:

 Protesters at funeral of General Wissam al-Hassan demand resignation of Lebanese government …